Regulatory Compliance

Compliance and Errors & Omissions Insurance
A comprehensive risk management program that includes sufficient insurance and bonding requirements is part of your compliance plan.
What are insurance underwriters looking for in an investment professional's application for errors & omissions (aka professional liability) insurance?
Download the comprehensive 33-page Guide to gain:
– Clarity to the Insurance Evaluation Process
– Specific Guidance and Roadmap to Improved Outcomes
– Risk Management Resources for your Practice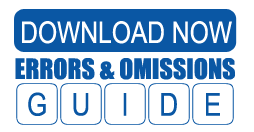 Proactive Securities Compliance Consulting
Regulatory Compliance, LLC has been assisting broker-dealers and investment advisers with critical securities compliance responsibilities since 1989. Our team of experienced professionals — CPAs, securities principals, financial and operations principals, investment advisers, securities attorneys, and other specialists — provides comprehensive compliance solutions to thousands of financial services industry firms nationwide.
Comprehensive Regulatory Compliance Services
Broker-dealers and investment advisers can choose from a use comprehensive suite of compliance services from Regulatory Compliance:
– Registration and Ongoing Compliance
– CCO Outsourcing and Consulting
– FinOp, Accounting and Bookkeeping
– Exams and Testing
– General Solicitation Reviews and Testing
– Supervisory Procedures Customized and Templates
– Web CRD and IARD Filings
Trusted Regulatory Compliance Resource
Clients who take advantage of our PartnerProgram — a package of affordable compliance services customized to a firm's specific requirements — receive ongoing regulatory compliance support. We stay up-to-date with the latest securities regulations to provide clients with calendars, ongoing regulation updates, filing deadline reminders, and reporting requests to facilitate accurate, timely filings and peace of mind.